An ISO 9001 : 2015 Certified Company
Leading & Largest
manufacturer & exporter of
industrial process plant & equipment...

Send Email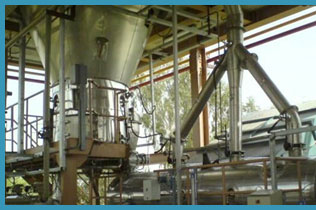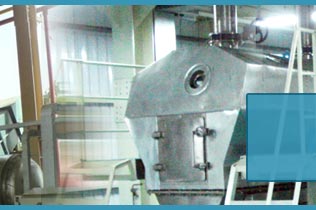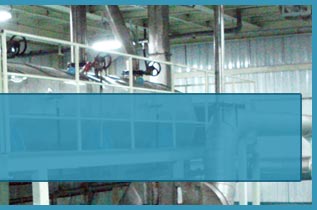 Centrifuge Machine
Excel plants offers Centrifuge in basket sizes of 12",24",36",48",60" in various steels like SS316, SS304, MSRL & Harller coating with GMP finish etc. with precision machining as per your specification & prompt delivery schedule.


Top Discharge Type Centrifuges
Top Discharge Type Centrifuge is a single point suspension that is extensively used for the solid-liquid division by filtration. The machine works with quick loading and unloading and possess a hassle-free functional life. Featuring bottom driven top discharge provision, the presence of precision manufactured external body support along with interlock safety cover makes this centrifuge highly preferred.
Features:
Very simple in construction.
Economic and easy for operation.
Low maintenance cost.
Suitable for sticky and hard lump products.
Product Details:
Automation Type : Semi-Automatic
Brand : Excel
Material : SS
Max. Basket Revolution RPM : 800- 1000'
Motor : 2- 25 HP
Rated charge in Basket (Ltrs) : 50-400
Bag Lifting Type Centrifuges
Bag Lifting Type Centrifuge is the heavy duty centrifuges with fast acceleration and smooth running. The bottom opening of the filter bag allows the drainage of solids so as to make the discharge of solids simple and swift. It involves least manual labor and facilitates for effortless loading and unloading along with superior production capacity per batch.
Features:
The time required for cake removal is negligible.
Cake spillage on the floor is nil.
Easy cleaning of the basket in and out.
Requires minimum manpower.
Production is increased.
Manual contact with cake is avoided.
Cake can be easily elevated to upper stories without the use of lifts or trolleys.
More volumetric charge per machine available.
Full opening of the lid helps maintenance.
Product Details:
Power Source : Electric
Basket Diameter (mm) : 60090012001500
Depth (mm) : Depth (mm)
Max. Basket Revolution (RPM) : 1000900800
Model : EPT-24, EPT-36, EPT -48, EPT -60
Motor : 3,7.5,15,20 HP
Bottom Discharge Type Centrifuges
Manufactured using superior quality material, Bottom Discharge Type Centrifuges is extensively used in chemical industries. The centrifuged solids are scrapped with the help of a scrapper either manually, pneumatically or via hydraulic cylinder. The process of filtration of this machine is similar to that of other centrifuges, the difference lies in the method of unloading the solid. In order to prevent the contact parts and the outer body from rust or spillage, we offer lining/coating. The material used for construction of this centrifuge is as follows:
Carbon Steel
Hastelloy
Rubber Lined
Stainless Steel
Fluoro Polymer Coating / Lining viz.- Halar (ECTFE)
Teflon (PFA)
Features:
Available in automatic & semiautomatic options
Available with manual braking system
Suitable for hygienic applications at pharma companies and food processing plants
Advantages:
Minimal manual labour
Low disintegration of crystals
Automated operation using PLC
Hazardous, toxic or allergic can be safely handled
Heel Removal System aids regeneration of filter media
| | | | | | | | |
| --- | --- | --- | --- | --- | --- | --- | --- |
| Model | Basket Dia mm. | Height mm. | Volume Ltrs. | Drive HP | RPM | G Value | |
| 450 CF | 450 | 225 mm. | 20-25 | 2 | 1440 | 520 | 0.35 |
| 600 CF | 600 | 350 mm. | 50-60 | 3 | 1200 | 480 | 0.56 |
| 900 CF | 900 | 450 mm. | 160-200 | 7.5 | 960 | 470 | 1.35 |
| 1200 CF | 1200 | 600 mm. | 300-350 | 15 | 800 | 440 | 1.9 |
| 1500 CF | 1500 | 700 mm. | 450-550 | 25 | 720 | 440 | 2.4 |
Four Point Suspension Centrifuge Machines
Four Point Suspended Centrifuge Machines are the completely automatic machine designed with four point suspension bottom. The machine is backed with support of inertia platform and vibration isolating dampers that ensures smooth functioning. These machines are suitable for flexibly relocating the centrifuge within the plant.
The machine is available with three kinds of scraping system provisions comprising of motorized single motion scraping system, manually operated scraper, and hydraulic dual motion scraping system.
Features:
The vibration transmission is nil
Good and clean house – keeping possible
The machine can be used on upper storey
No cost of R.C.C foundation.
Can be shifted easily.
Product Details:
Automation Grade : Automatic
Basket Diameter (mm) : 600-1500
Brand : Excel
Material : SS
Motor : 3-20 HP
Speed : 800-1000 RPM
Horizontal Peeler Type Centrifuge
Optional Features
Anti Stick coatings on discharge chut
Hydraulic clamping ring for outer body
Cake Monitoring system
Complete automation using PLC
Product Details:
Automation Type : Automatic
Brand : Excel
Diameter (mm) : 630800100012501000
Material : SS
Motor : 10-30 HP (approx)
Material of Construction
Stainless steel, Hastelloy, Fluoro-polymer coated (like ECTFE, PFA etc)
Available Sizes
630, 800, 1000, 1250, 1400mm dia, others on request.
Sugar Plant
Product Details:
Capacity : High
Usage/Application : Industrial
Automatic Grade : Automatic
Design : Customized
Brand : Excel
Type of Machines : Boiling house, Co-generation system,Boiler,Milling tandem
Industrial Evaporators
We are engaged in offering industrial evaporators that are used for concentrating dilute liquids, for increasing solids content & for reducing volume by evaporating water. Evaporator are selected on the various properties of feed & product such as crystallization, foaming, corrosion, salting & scaling. The range of evaporators we offer are designed and developed by experts and meet international quality standards. These evaporators are highly durable and reliable. Our clients can avail these evaporators from us at industry's leading prices.


Falling Film Evaporators
These products are available at very reasonable market prices. With low operating costs, these products are highly appreciated for their continuous and flawless operations. We offer these evaporators in compact designs to the clients and these are ideal for heat sensitive items. Our Falling Film Evaporators are available with automatic controls and CIP cleaning to our clients.
These evaporators provide gentle product heating and available in a variety of sizes, stages and capacities. Available with thermal vapor recompress, our evaporators are designs with low steam consumption. It is easy to operate and use these products and these have less hold up of materials in the plants. In addition, our products are designed using superb quality raw materials and are used in diverse industries.
Features:
Accurate
Efficient
Cost Effective
Rising Film Evaporators
These evaporators are highly used in the various kinds of industries. Our products are highly suitable for the liquid with fouling tendency or high viscosity. These products are available with steam heated tubes that allow the liquid to enter. Our evaporators are delivered within given time period for processing of liquors.
These products are widely known as vertical tube along with steam condensing and are used in different industries including Pharmaceutical, Agrochemical, Food & Dairy and Herbal extracts. These are also used for foaming applications and are thermally efficient in nature. Thus, we offer our products as per the client's bulk requirements and demands and these are easily available in the market.
Application:
Food & Dairy industry
Agrochemical industry
Herbal industry
Forced Circulation Evaporators
Our products are manufactured using advanced technology and modern machines. Our products are designed with large re-circulating pumps as well as wide bore circulating pipe work. We offer these film evaporators at reasonable prices to our respected clients. These products are used in concentrating thermally degradable materials and are manufactured using finest quality raw materials and latest machines. We offer these products for various industries including chemical industry, textile industries, tannery plants, pharmaceutical industry and other allied industries.
These products are also known to provide easy way to allow the heat transfer functions and we offer these products in compact designs to the clients. Our products are available with Solvent recovery as well as high energy efficiency in the market and we offer these products with high capacity. We offer these products along with crystallization option and these are easily available in the national as well as international market.
Features:
Robust construction
High durability
Easy to install
Product Details:
Design : Customized
Separator : Yes
Brand : Excel
Material : SS
Power Source : Electric
Agitated Thin Film Evaporators
These evaporators avoid the possible degradation as well as re-circulation of products. We design these products using latest machines and tools and our products are available at client friendly prices in the market. Our evaporators are highly suitable for the viscous products and hazardous applications.
These Agitated thin Film Evaporators are highly acclaimed for their good turn down capability and available in diverse operating temperature ranges. Our film evaporators are featured with narrow spread for the heat sensitive products. These Agitated thin Film Evaporators consist of blades in different configuration and we offer them as per the industrial standards to our respected clients. We offer them with very short residence time in the market and these are easily available with advanced mechanism to the clients.
Features:
Low utility consumption
High capacity
Reduced costs
Home | Profile | Product Range | Our Team | Quality Assurance | Contact Us | Enquiry

©
Excel Plants & Equipment Private Limited
. All Rights Reserved (
Terms of Use
)
Developed and Managed by
IndiaMART InterMESH Limited