An ISO 9001 : 2008 Certified Company
Leading & Largest
manufacturer & exporter of
industrial process plant & equipment...

Send Email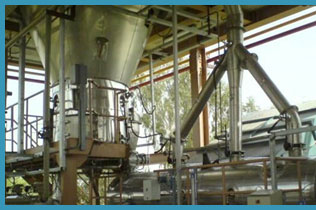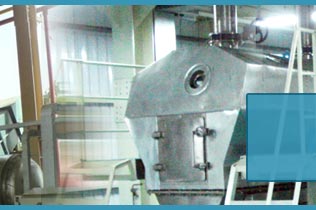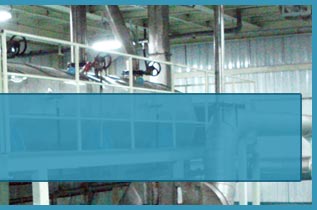 Industrial Spray Dryers
Industrial Spray Dryers is the single step drying operation in which liquid feed solution, emulsions, dispersions or slurries are directly converted to free flowing powder or granules.
Spray Dryer
We offer these products in various sizes to the clients and these dryers are available in custom-made designs in the market. Used for products drying duty, these dryers have different flow patterns as well as atomization. In addition, our dryers are available for rotary disc atomizer system, two fluid nozzle system and pressure nozzle system. With fire fighting nozzles and explosion vents, these spray dryers provide inert environment drying.
Thus, we offer these products with compact layout to the clients and these are widely used for their user friendly operations. Our clients can avail these products in pressure designs along with automatic or remote change over of nozzle. It is easy to operate these dryers and we offer these dryers with an option of single as well as two fluid nozzles. Thus, these can be customized as per the client's desired requirements and needs.
Features:
Controlled noise level
Automatic cleaning
Impermeable
Product Details:
Capacity : 100- 50000 Kg/ hr
Max Temperature : Up to 600 degree Celsius
Design : Customized
Automatic Grade : Automatic
Brand : Excel
Material : SS
Spin Flash Dryer
Features:
Dust free process
Easy cleaning
Effective performance
Applications:
Amino Acids
Dyes & Dye intermediates
Pigments
Starch
Gluten
Batch Type Fluidized Bed Dryers
We offer these products for top spray film coating to the clients and these products consist of control panels in order to provide high temperature accuracy. These dryers are widely accepted to provide quick and uniform heating and are easily available at very affordable prices. Our products are available in different capacity in the market and we manufacture these products using high class stainless steel or mild steel.
Available in modular designs, our dryers are highly acclaimed for their low noise level. Further, we offer these products with Pneumatic shaking system to our valuable clients. These dryers are fully automatic and are designed with latest technology. With PLC operations, our dryers are used for flow free granular powder. Thus, these dryers have efficient energy utilization as well as good quality.
Features:
Easy and safe to operate
Maintenance free
Versatile designs
Advantages:
Adjustable residence times to suit each individual product
Closed loop inert gas with solvent recovery system
Design available for explosive fire hazardous products
Drying and cooling in a single step
Energy efficient operation
Uniform product temperature possible
Suitable for production of granular, on dusting, instantised or hygroscopic products
Applications:
Baby food
Chocolate drinks
Juices
Milk powder
Dye pigments
Chemicals
Soups
Product Details:
Brand : Excel
Material : SS
Automation Grade : Automatic
Capacity : 100- 50000 Kg/ hr
Max Temperature : Up to 600 degree Celsius
Design : Customized
Continuous Type Fluidized Bed Dryers
Additionally, to this, these can also be tailored as per the give specifications detailed by our esteemed patrons. These products provide fluidization at very low air velocities and we offer these products with food functionality. Thus, all these dryers are tested on the basis of different parameters using excellent quality control systems and we offer these products with optimum performance to our respected clients.
These dryers are handled through the cold air by cooling fan, hot air by drying fan as well as exhaust air by exhaust fans. Our bed dryers comprise product container that is pneumatically sealed and these are highly suitable for optimum heat transfer and proper fluidization. Additionally, these are also used for pneumatic solids transportation in an effective as well as efficient manner. Thus, these products are easily available with customization in the market.
Features:
High rate of heat transfer
Uniformed and proper results
Highly hygienic
Benefits:
Gentle and efficient mixing
Excellent heat transfer properties
Improved control over particle size distribution
Removal of fines
Fluid Bed Dryer
Our Fluid Bed Dryers are easy to dry and dry the material in slightest moment as compared to plate dryer. These bed dryers are designed in CGMP models of stainless steel and are available at industry leading prices in the market. Available with pneumatic locking as well as lifting for the container of product, these dryers are available with specially designed silencer.
These bed dryers are highly acknowledged for less space utilization as well as these are available in various technical specifications in the market. Our products are used in Fine Chemicals, Pharmaceuticals, Dyes, Food & Allied industries. We design these products with process control system as well as air handling equipment. These dryers use conventional method of drying in order to dry the products in a reliable and efficient manner. Fluid Bed Dryer consists of bottom distribution chamber and top fluidizing chamber.
Features:
Air disperser for rotary and nozzle atomiser
Controlled noise level
Explosion protection for Drying chamber
Rotary atomiser with inert gas purging
Semi or fully automatic cleaning system
Weather proof finish for outdoor installation
Wide range of applications, sizes and Configurations
Application Areas:
Pharmaceuticals Industries
Chemical Industries
Agriculture Industries
Advantages:
Save energy.
Flexibility of drying different product in one dryer
Shortest down time for maintenance
Efficient controlling system for powder quality
Increased production rate
Better powder quality
Rotary Dryer
Features:
Simple design
Trouble free operation
High output rating
Product Details:
Capacity : 100kg/hr to 50000kg/hr
Automatic Grade : Automatic
Max Temperature : Up to 600 degree Celsius
Design : Customized
Brand : Excel
Material : MS
Flash Dryer
We offer the products to the clients are very cost effective rates. Flash dryers are available for free moisture removal and we offer these products in various designs, sizes and specifications. These dryers are heated through air in order to dry the slurry, paste and wet cake in an effective and reliable manner. We source raw materials from the trusted vendors in order to manufacture these products with long lasting nature. These dryers are operated under negative pressure and provide hassle free performance.
Our products are delivered within stipulated time period to our esteemed clients. These dryer occupy less space and available as per the international standards of quality. Ideal for diffusion-controlled drying operations, these flash dryers are also recognized as pneumatic dryers that are available with small footprints in the domestic market.
Features:
Dust free operation
High performance
Accurate
Product Details:
Temperature : 1000 degree
Design : Customized
Heat Source : Electricity
Automatic Grade : Automatic
Brand : Excel
Grade : Automatic
Home | Profile | Product Range | Our Team | Quality Assurance | Contact Us | Enquiry

©
Excel Plants & Equipment Private Limited
. All Rights Reserved (
Terms of Use
)
Developed and Managed by
IndiaMART InterMESH Limited